One Spine Clinic in

Vasai
One Spine Clinic in Vasai provides residents with easy access to the highest quality spine care. Dealing with spinal issues can be a challenging journey, which is why we are committed to providing you with a spine care center that is comfortable and convenient.
Our focus is "Your Spine Health" and we offer a wide range of non-surgical and surgical solutions to treat a variety of spinal problems. Our patient-centered approach and state-of-the-art facilities ensure you receive the best care based on your individual circumstances.
We understand that each patient is unique and customize our treatment options based on individual needs. Your well-being is our top priority. Our goal is to provide you with the information and support you need to make informed decisions about your spine health. We are here to support you every step of the way from diagnosis to recovery.
Experience a difference at One Spine Clinic, where your spinal health is of utmost importance. Discover the relief you've been looking for and let us help you live a fulfilling life.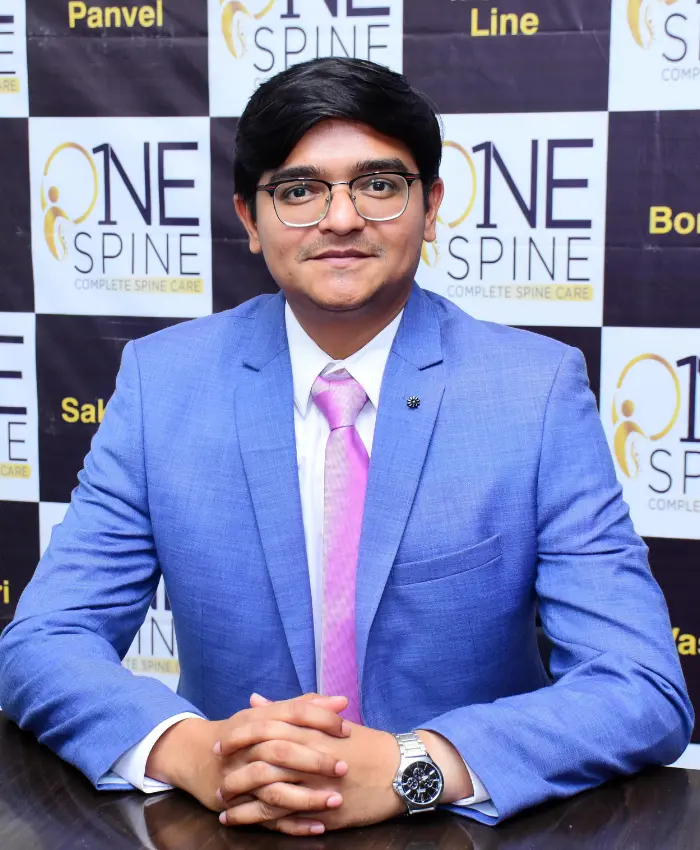 MBBS, MS ORTHO, F.ASSI, F.AO Spine, F.SICOT, F.SRS, F.MISS
Consulting Orthopedic Surgeon
Dr. Ankit Patel is a highly skilled and respected spine specialist based in Mumbai, India. He has received extensive education and training in the field of spinal surgery, including a Fellowship in Adult Deformity Reconstruction in the USA, Endoscopic Spine Surgery in South Korea, Spinal Tumor Surgery in Denmark, and Pediatric Deformity (Scoliosis) in the UK and Netherlands.
Dr. Patel holds multiple degrees and certifications, including MBBS, MS ORTHO, F.ASSI, F.AO Spine, F.SICOT, F.SRS, and F.MISS, which reflect his extensive knowledge and expertise in the field of spinal surgery. His dedication to providing his patients with the best possible care and his commitment to ongoing education and training make him a top choice for those seeking treatment for spine-related conditions.
In his practice, Dr. Patel uses the latest technology and techniques to provide a full range of spinal surgery services, including minimally invasive procedures, endoscopic spine surgery, and adult and pediatric deformity reconstruction. He takes the time to thoroughly explain the different options available to each patient and works closely with them to determine the best course of treatment for their individual needs.