One Spine Clinic in

Andheri
One Spine Clinic in Andheri offers the convenience of easy access to residents for the highest quality spinal care. Dealing with spinal issues can be a challenging journey, and that's why we are committed to making a comfortable and convenient spinal care center for you.
Our focus is 'Your Spinal Health', and we offer a wide range of non-surgical and surgical solutions to address various spinal issues. Our patient-centered approach and state-of-the-art facility guarantee that you receive the best care available for your unique circumstances.
We understand that each patient is unique, and we tailor our treatments to meet individual requirements. Your well-being is our top priority. Our goal is to provide you with the information and support you need to make wise choices regarding the health of your spine. We are here to support you every step of the way, from diagnosis to recovery.
Experience the difference at One Spine Clinic in Andheri, where your spinal health truly matters. Discover the relief you've been searching for, and let us help you live life to the fullest.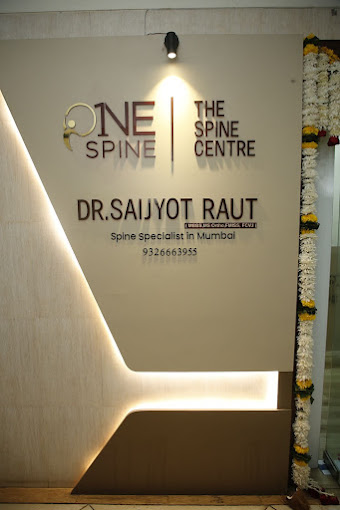 M.S ( Ortho), F MISS, F CV
Dr.Saijyot Raut is a consultant spine surgeon who has been practicing with Spine team in Lilavati Hospital, Bombay Hospital.
He is the Director of The Spine Centre Andheri Clinic & Doctor House Super Speciality Clinic.
He also provides his services in Spine Clinic (Goregaon), Criticare (Juhu), Sujay Hospital (Vile Parle) Aastha Hospital (Kandivali West) and Doctor House in Boisar and Palghar

Dr. Raut also specialises in minimally invasive treatment of degenerative disorders of the cervical, thoracic, and lumbar spine, spinal tumours and adult spinal deformities, Cranio-vertebral anomalies, endoscopic spine surgeries and paediatric spine surgeries.

He has presented and published many national and international award-winning research work which include his research work on 'Anthropometry study of C1-C2 trans-articular screw' in the Indian population for which he was also awarded best paper in BSSCON.
He was a part of the organising committee of Asia Pacific spine society (APSS) and Bombay spine society (BSS) operative spine course 2020, Bombay operative spine course (BOSC) 2019 & 2018.

He provides consultations for all spine conditions and believes in advising patients in the best and most ethical form.

He holds a Master of Surgery in Orthopedic. He has done his Spine Fellowship from various renowned institutes in India and abroad. He has been trained in India's reputed institutions like KEM hospital, Hinduja hospital, Bombay Hospital, Mahatma Gandhi Mission and Spine certification from the USA, Korea, UK, and Singapore.